Digital Self Servicing Agent Application
C L I E N T B A C K G R O U N D
The client is a leading life insurance company in India. They provide their customers Long-Term Savings,
Protection and Retirement Solutions, delivered by their high-quality Agency and Multi-Channel Distribution
Partners.
B E N E F I T S
The new application reported an increase in the usage to 75% by the agents as compared to 15% for
the old application.
Cheque submission time reduced to 24 hours from 4 days.
Agents can now reach out to their customers anytime through SMS and emails to send
notifications, reminders and even birthday wishes.
A graphical dashboard provided more actionable insights to the agents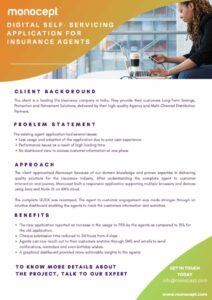 Monocept's Digital Transformation services helps our clients to create exceptional customer experiences using analytics, automation and AI. Let our digital transformation consultants with right mix of digital and industry experience help you beat the customer expectations.