How is Cloud Computing transforming the Financial Industry?
What is cloud computing?
Cloud computing is the on-demand availability of hardware infrastructure like data storage, computing power, etc. without direct management by the end-user. It can be limited to a single organization (enterprise clouds), multiple organizations (public cloud) & a combination of both (hybrid clouds).
Why do we need cloud computing in Financial Institutions?
Financial institutions are faced with a unique challenge. On one end they have the opportunity to provide banking access to millions of unbanked people. On the other end they are being disrupted by cloud-native fintech companies. To make the most of this opportunity, Financial Institutions (FIs) are adopting Digital transformation and ensuring their continued viability in a new competitive and collaborative landscape.
FIs need to manage & extract data, often in collaboration with cloud-native start-ups, while ensuring their long term operational resilience. Cloud adoption supports these goals, making it necessary to the operations of any modern digital businesses, and bringing benefits not only to incumbents but also to newcomers, customers & economy as a whole.
It provides infrastructure and advanced analytics in the speed required by digital transformation, and to a level that many FIs cannot match with their own in-house IT support.
AREAS OF CLOUD COMPUTING ADOPTION
SEGMENT
Banking
Core Banking cloud serviceLending & Leasing Cloud Service

Revenue Management & Bill Cloud Service

Insurance
Policy Administration for Life and Annuity Cloud ServiceHealth Insurance Cloud Service

Rating and Underwriting Cloud Service

Billing and Revenue Management for Healthcare Payers Cloud Service

Document Management Cloud Service

Analytics
Financial Crime and Compliance Management Cloud ServiceRisk Management Cloud Service

Performance Management Cloud Service

Operational Risk Cloud Service

Customer Insight Cloud Service

Regulatory Reporting Cloud Service
BENEFITS OF ADOPTING CLOUD INFRASTRUCTURE:
Reduce cost: FI's will save a lot by not investing in hardware, software and support.
Improve flexibility and scalability: the cloud gives FIs the ability to respond quickly to changing market, customer and technological needs. They can scale up and down technology according to their needs. The ability to respond quickly will give a decisive competitive edge.
Improve efficiency: Business operations and technology and can be closely aligned; the cloud gives banks a greater opportunity to drive out complexity.
Faster customer service: Cloud computing makes it easier to develop and launch, new and bundled products and services, either on a stand-alone basis or in partnership.
Create stronger customer relationships: Combining big data and computing power allow FIs to develop systems capable of giving better insights into customers and make better decisions on their behalf.
Bring customers closer to their customers: Transaction banking eases payments between sellers and buyers.
According to a research from Vanson Bourne, companies adopting cloud are actually experiencing measurable improvements in higher productivity, lower cost and improved time to market with positive impacts in the business as a whole1.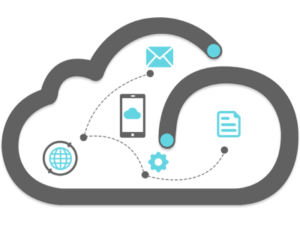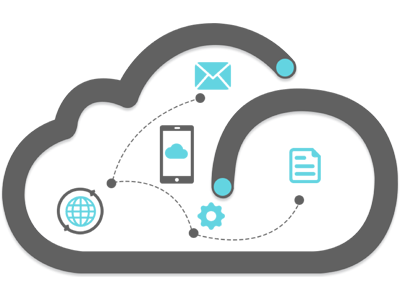 RISKS ASSOCIATED WITH CLOUD COMPUTING:
In Gartner's latest quarterly Emerging Risks Report, 110 senior managers in risk, audit, finance, and compliance at large globally reputed organizations chose cloud computing as the top concern for the second quarter also. Information security risks, like cybersecurity disclosure and GDPR compliance, ranked among the top five concerns of the managers surveyed.
The key considerations then, both for FIs and for their regulators, are
(i)    practical hurdles (regulatory issues) in migrating to cloud, and
(ii)    Specific problems associated with cloud service providers, including concentration and dependency
CONCLUSION:
Importance of data and data management in the digital economy can be seen clearly in the financial services industry. Cloud computing is a key enabler in the management of massive datasets, and it presents numerous benefits and opportunities in meeting evolving customer expectations.
Like any new technology, it invariably has risks – but the most prominent risk may, in fact, be the risk of not moving. Top management is right to expand cloud services as part of their digital business initiatives, but they need to ensure their cloud security strategy keeps up with the growth. The financial institutions that don't pursue migration to cloud computing will need to support older infrastructures, and suffer significant business constraints in their ability to service customers.
REFERENCES:
Research from Vanson Bourne. "The Business Impact of the Cloud" – report compiles insights from interviews of 460 senior decision-makers within the finance functions of various enterprises
Read more: How is cloud computing transforming the banking industry?